University of Oklahoma Archives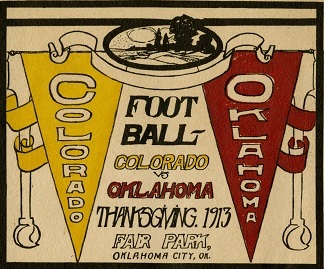 How to Find University Archives Resources
Search Discover Local for University Archives resources:
Type "University of Oklahoma Archives" in the first box
Use the facets under "Tweak my results" select "Archives" from the "Resource Type" drop-down menu, then press the search button
Narrow the "Library" to "Western History Collections" to further narrow to collections within the University Archives.
These additional resources can prove valuable guides for specific aspects of university history. These materials are available for use in the Reading Room.
University General Catalogs
University Directory
University Yearbooks: the Mistletoe and the Sooner
See the
Sooner Heritage
digital collections for these rich sources of university history:
Rich source of University history. All issues available digitally from first issue in 1928 to the present. Print versions available in Bizzell Memorial Library at call number LH 1 .O6 S6.

 

Official minutes of Board of Regents meetings from 1893 to the present. Good resource for official university-level decisions.
Other digital collections:
OU Faculty Senate Meeting Minutes, 1989-present

The Faculty Senate consists of 50 members of the regular faculty elected to three-year terms by their colleges. The Senate exercises legislative powers as delegated by the regular faculty and has the power to initiate any legislation requiring approval of the Board of Regents. Meetings of the Senate are held usually on the second Monday of each month of the regular school year and are open to the public.
Newspapers and Publications
University newspapers and other publications may be found in Bizzell Memorial Library and the University Archives.  
Many additional departmental and other university-related publications may be found by searching the University Archives.