Image
Image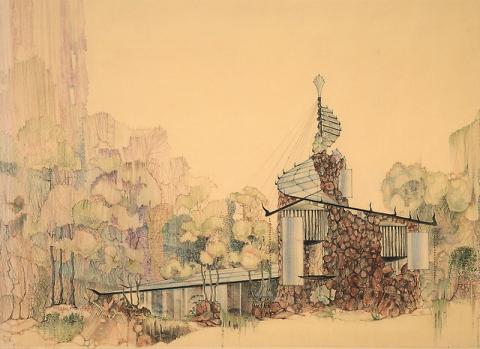 Description
The American School refers to the imaginative school of design and practice that developed under the guidance of Bruce Goff, Herb Greene and others at the University of Oklahoma in the 1950s and '60s. Under the leadership of Bruce Goff (1904-82), Herb Greene (b. 1929), Mendel Glickman (1895-1967), and many others, OU architecture and design faculty developed a curriculum that emphasized individual creativity, organic forms, and experimentation.
University of Oklahoma Libraries and the Gibbs College of Architecture have collaborated to collect, preserve, and provide access to an expansive archive of primary source materials including architectural drawings, photographs, planning records, and models that document the legacy of the American School. The American School Archive is accessible to the public on the 5th Floor of Bizzell Memorial Library in Special Research Collections.
Address
Bizzell Memorial Library
401 W Brooks St
Norman, OK 73019
United States
Build Your Page
Collection materials do not circulate and are made available for use in the Duane H.D. Roller Reading Room at the Fifth Floor Special Research Collections. For information about viewing materials, support for research and instruction, tours, and details about sources and services, see the 5th Floor Special Research Collections page.
The Archive contains over 40 individual collections that document works of specific architects associated with the American School. Explore our collections database to access fully-searchable finding aid inventories for all American School Archive collections and request collection materials. OU Libraries resource guide on the American School of Architecture also outlines books, articles, and media on the topic.
American School of Architecture Archive Research Guides