Image
Image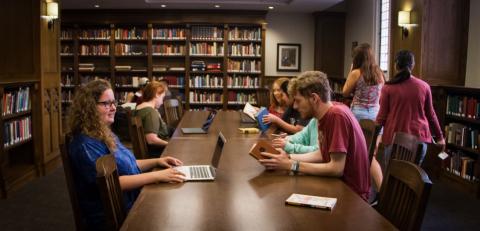 Description
The Boorstin Collection is used for quiet study and reading books from the collection. The facilities for the Daniel J. and Ruth F. Boorstin Collection were made possible by a generous gift from ConocoPhillips Inc.
Today's Hours
This unit is accessible whenever the Bizzell Memorial Library is open.
Address
Bizzell Memorial Library
401 W Brooks St
Norman, OK 73019
United States
Build Your Page
About Daniel J. Boorstin
Author of more than 20 books, Daniel J. Boorstin was one of America's most distinguished and influential historians. He was awarded the Bancroft Prize for American history in 1959 and the Pulitzer Prize in history in 1973. Boorstin served as the twelfth Librarian of Congress from 1975 to 1987. His wife, Ruth Frankel Boorstin, collaborated with him as editor and was a full partner in all of his endeavors.
 
Preferred Use:
This space is intended to be a quiet study space for faculty and students.
At the discretion of library administration, this space may be reserved for University special events and other one-time use. Events must use the room in its current configuration and may not remove furniture or collections from the area.
Available Technology
 No presentation or audiovisual technology

Food & Drink: 
Food and drink are permitted for events. The renting department is responsible for making all necessary arrangements for catering and alcohol service. All events serving alcohol are required to have licensed caterers to provide all bars. No individuals under the age of 21 are to be served alcoholic beverages. Red wine may not be served in this space.


Room Reservations: 
The room is scheduled through the Library Administration Office. To schedule the room, please call (405) 325-2611 or contact Public Relations. The room must be reserved at least 5 business days in advance of the event. Library events will have priority use of the space.
Technology
Technology

Description
Wi-Fi access is available in all rooms of the library. Instructors and students can access the internet by wirelessly connecting to the University's wi-fi network.