Image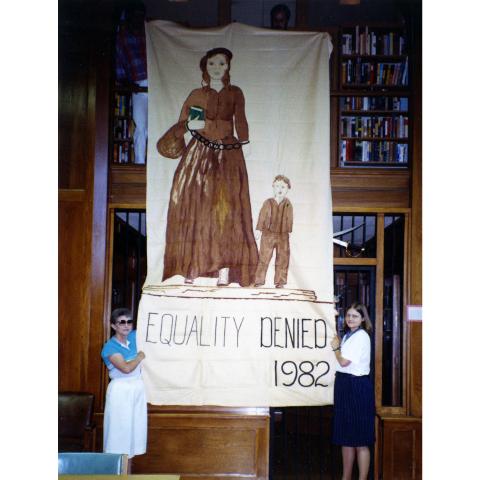 The University of Oklahoma Libraries' Western History Collection announces a new exhibit titled, "Oklahoma's Women Warriors" on display in the collection's reading room in Monnet Hall until January 2024.
Co-curated by two of its graduate research assistances, Megan Green and Melissa Weiss, the exhibit focuses on three Oklahoma women and their efforts to fight for what was important to them.
The "Fighting for Norman" case looks at June Benson's work as the first woman elected as a mayor in Oklahoma, along with her ongoing civic engagement after her two terms as Norman's mayor from 1957 to 1960.
The "Fighting for Equality" case focuses on women's rights activists' attempts to rally support for the Equal Rights Amendment (ERA) in Oklahoma from 1972 through 1982. The Shirley Hilbert-Price Collection featured in the case includes a wide range of materials used to advocate for the ERA.
The "Fighting for Justice" case features former OU Law Professor Anita Hill and her experiences at OU during and after her testimony before the U.S. Senate Judiciary Committee's Supreme Court confirmation hearings about the sexual harassment she experienced while working for Clarence Thomas. Professor Hill's testimony bolstered conversations about sexual harassment across the nation and continues to be a litmus test for judging how much progress has been made since 1991 on gender-based harassment.
The exhibition is on display in room 300 in Monnet Hall and the WHC is open to the public from 8 am to 5 pm, Monday through Friday.
For questions, contact University Libraries Marketing and Communications, libpr@ou.edu.