The information people use is increasingly available online, often for free, and scholarly publications are no exception. Open access items are digital, online, free of charge, and free of most copyright and licensing restrictions, and they may be available at a publisher's website or placed in a repository by an author. Open access journals are proliferating, as are open access policies at institutions of higher education.

Read on for more information about the growing interest among scholars in choosing open access. For more information, you are also welcome to contact the University of Oklahoma Libraries (OU Libraries) Open Initiatives & Scholarly Communication unit at scholarlycommunication@ou.edu.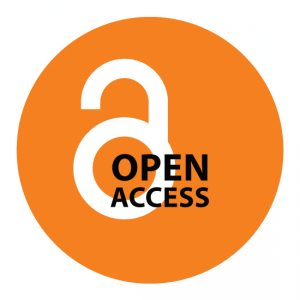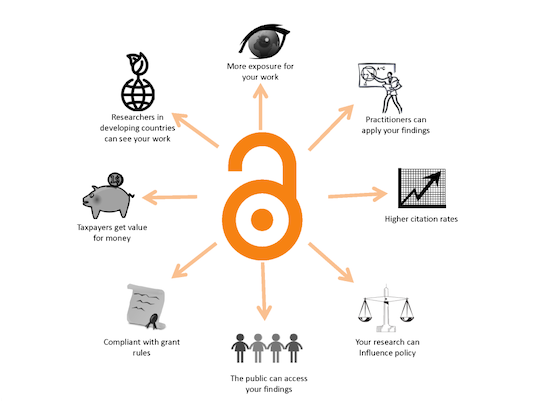 More citations: Open Access journals garner more citations, as numerous studies have shown (and continue to show).
​
More readers: A 2008 BMJ study showed that "full text downloads were 89% higher, PDF downloads 42% higher, and unique visitors 23% higher for open access articles than for subscription access articles." These findings have been confirmed for other disciplines, as well.

More social media attention: An Altmetric.com study found that open access articles also receive more academic social media attention than articles that are paywalled in toll-access journals.

More access for those who need it: there are plenty of people who might need access to your work – scholars from small institutions and low- and middle-income countries, patient advocates, patients themselves, and citizen scientists. Publishing open access will allow more people to read your work and potentially benefit from it.

Nature.com reports that open access articles have:
greater public engagement
faster impact
wider collaboration
and increased interdisciplinary conversation
Gold Open Access 
Gold open access journals make all of their articles open access immediately. There are many different business models for gold open access publishers, and you can search the Directory of Open Access Journals (DOAJ) for a quality, vetted journal in your discipline. Some gold OA journals require that authors pay a publication fee or "article processing charge" upon acceptance for publication. About 70% of Gold OA journals don't charge a fee though, and some publishers offer fee waivers for those who need financial assistance. With some careful planning, you can also cover Gold OA publishing fees by writing the expected fees into a grant budget or by applying for Research Publication Subvention Funding provided by University Libraries

Hybrid Publishing
Some subscription journals will allow authors to pay an APC to make their work open access, even if other papers in the journal are not. This practice is known as "Hybrid OA." Hybrid OA journals allow authors to publish in a journal that may be more recognized by their peers, while also reaping the benefits that open access publishing provides. If you must publish in a hybrid journal because of its perceived prestige, OU's Office of the Vice President for Research and Partnerships (OVPRP) and Provost's Office offer subvention funding that pays for a portion of authors' APCs. And there are ways to publish in hybrid journals and still make your work openly available (discussed next in "Green Open Access").

Green Open Access (Institutional Repositories)
Green Open Access is the practice of publishing an article as you normally would in a subscription journal and posting a copy of your article in an institutional repository such as SHAREOK. It's a popular option for those who can't pay open access fees, but it has two major caveats: embargo periods and the inability to upload the publisher's pdf of your article.

Often, publisher restrictions mean authors have to wait a year or longer to make their work available via an institutional repository, leading to major delays in the dissemination of their work. And most publishers never allow authors to upload the publisher's pdf. Instead, they allow uploading the post print (author's final, submitted manuscript after all peer review and revisions, but before copy editing and layout) or a preprint (author's final draft before peer review). Yet even with these restrictions, uploading your work to SHAREOK still provides access to those who need it.

Open Access Books
UC Press, Open Humanities Press, and Springer are just a few of the many publishers that are now publishing open access books. All are free online but also available for purchase in print. Some are open access immediately; others become open access after a period of being restricted for sale only. You can find thousands of them at the Directory of Open Access Books (DOAB).