Image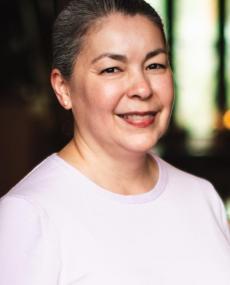 Associate Curator
Western History Collections
---
Phone:
---
Subject(s):
---
Bio
Lina Ortega is the associate curator at the Western History Collections and serves as the subject specialist librarian for Native American Studies. She enjoys curating the Native American collections and connecting researchers with historical and contemporary resources to illustrate the continuum of the Native experience.
Lina has been with the OU Libraries since 2001 and worked as a branch manager and science librarian before moving to the Western History Collections in 2016. A proud alumnus of OU, she earned her Master of Arts in the History of Science, Master of Library and Information Science, and Bachelor of Science in Zoology degrees from the University. She is a charter member of the Association of Tribal Archives, Libraries, and Museums.
In 2018 and 2019, she was the principal investigator on a Council on Library and Information Resources (CLIR) Recordings at Risk preservation grant to digitize OU's Indians for Indians Radio Show (1941-1975) recordings. Ms. Ortega directed the project and developed an exhibit and exhibit book based on the show.
---
Specialties and Certifications
Native American Studies, Native American, American Indian, Oklahoma History, Western History, University of Oklahoma Archives, OU History, University History
---