Image
Image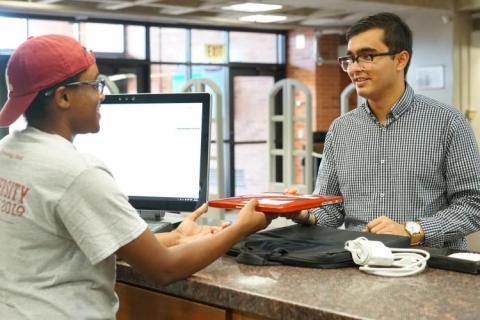 Description
Within Bizzell, you can find circulation desks at both the west and south entrances to the library. Here, employees are on hand during all hours of operation to process materials, answer questions, and connect you with services throughout University Libraries. The main circulation desk is also the primary contact point for departments like Billing and ILL, and where you can check out materials on short-term loan, ranging from textbooks to laptops to even bike locks!
Today's Hours
This unit is accessible whenever the Bizzell Memorial Library is open.
Address
Bizzell Memorial Library
401 W Brooks St
Norman, OK 73019
United States
Build Your Page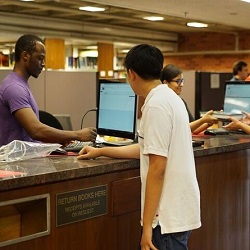 The main circulation desk at Bizzell Library is located at the west entrance next to the clock tower. This desk provides regular circulation services as well as assistance with issues related to Interlibrary Loan & Sooner Xpress, Reserves, Billing, and Security. All short loan items on reserve and items waiting for pickup can be found here. A list of devices on reserve is available on the OU Libraries Technology Lending page. You may call the front desk at (405) 325-3341.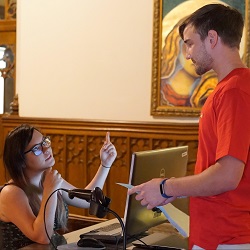 South Gate Circulation Desk
A secondary circulation desk greets visitors entering from South Gate, the historic main entrance to Bizzell Memorial Library. This desk offers convenient access to basic checkout and circulation services, and student employees here have a variety of resources on hand to help you find what you're looking for, whether it be a book in the Stacks or a building across campus.
Contact point for fines and fees questions and billing appeals
Hold Shelf and contact point for ILL and Sooner Xpress
Processing desk for permits and proxy authorization
Assistance contacting other departments and specialists
24-hour hold service
Item return receipts and other forms
Location and contact point for Reserves and AV materials
Contact point for Security
Lost and found desk
Directions and NavApp assistance
Self-check machine
Resources for submitting feedback
Please check the All Services page for any service not listed here. Offerings may vary at branch libraries.
Circulation Policies, Privileges, and Permits
Permits for Reciprocal Programs and Unaffiliated Borrowers