Image Media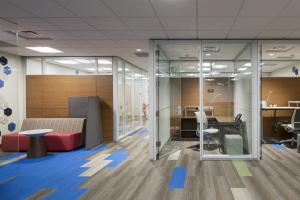 Digital Strategies & Innovation team furthers the libraries' mission by providing technical leadership for major initiatives including repositories, the virtual library experience, and access to online research tools for teaching and learning. This division also supports campus researchers by offering expertise and partnerships in data management plans, informatics, researcher workflows, web development, digitization, and digital preservation.

This division is led by the Associate Dean for Digital Strategies & Innovation, Jessica Davila.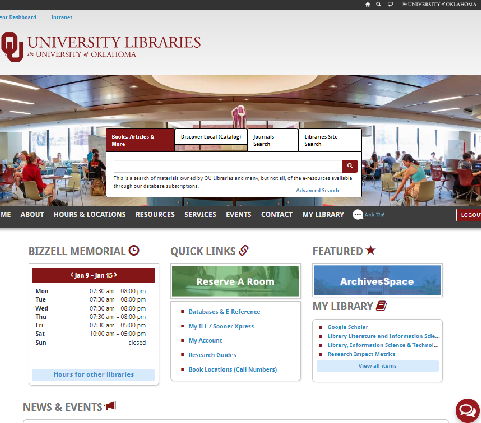 On July 31st 2023, the refreshed main library website was launched. This website refresh re-conceptualized virtual library services to provide increased access to resources and services, while also highlighting the libraries impact and strategic initiatives. The plan included an increased awareness of the rich materials within special collections and the services that are offered to support campus research.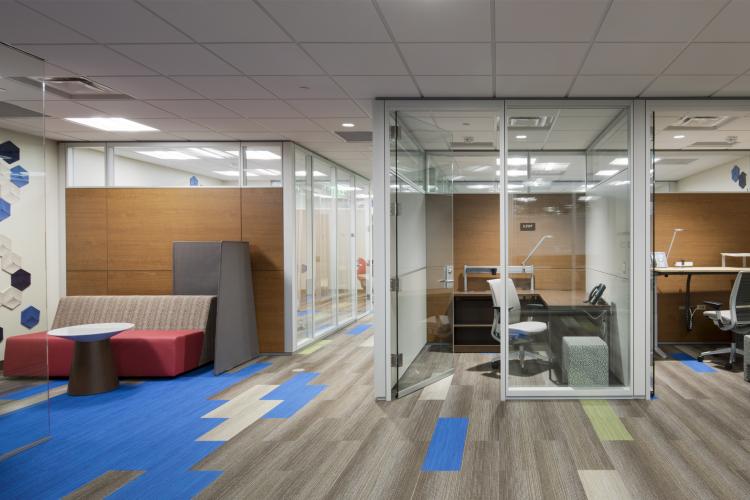 Data Services supports OU community members with their data needs. Located in the Zarrow Family Faculty and Graduate Student Center, Data Services provide an opportunity for the campus community to consult with specialists and graduate assistants who are familiar with working with data, including management, analysis and visualization in a collaborative environment. With the ability to ask questions and receive guidance, Data Services is the focal point to help faculty, researchers, and students work with their data. Members of the division's volunteer their time and expertise to support Data Services. Currently, this team is developing a new series of workshops focused on technology infrastructure that supports researchers in higher ed. These workshops will be open to other colleges and universities that want to attend.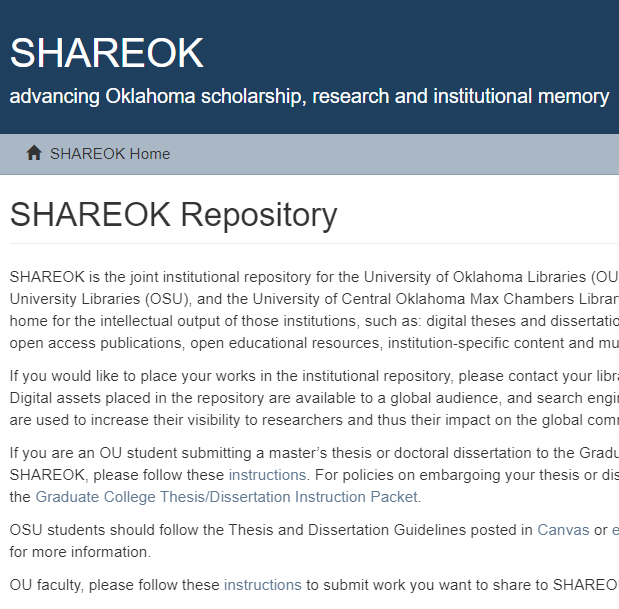 SHAREOK is a state-wide institutional repository between three of Oklahoma's major universities. The division maintains the open source platform that runs the repository, and supports the development needs and infrastructure support for all three universities. In collaboration with the OU Graduate College, every graduating Masters and PhD student must deposit a copy of their thesis or dissertation into SHAREOK. For print thesis and dissertations, the division created a robust workflow for patrons to request items be digitized and deposited into the repository. This "digitize-on-demand" process was a collaborative effort that included the digitization lab, informatics unit, and discover application and development unit.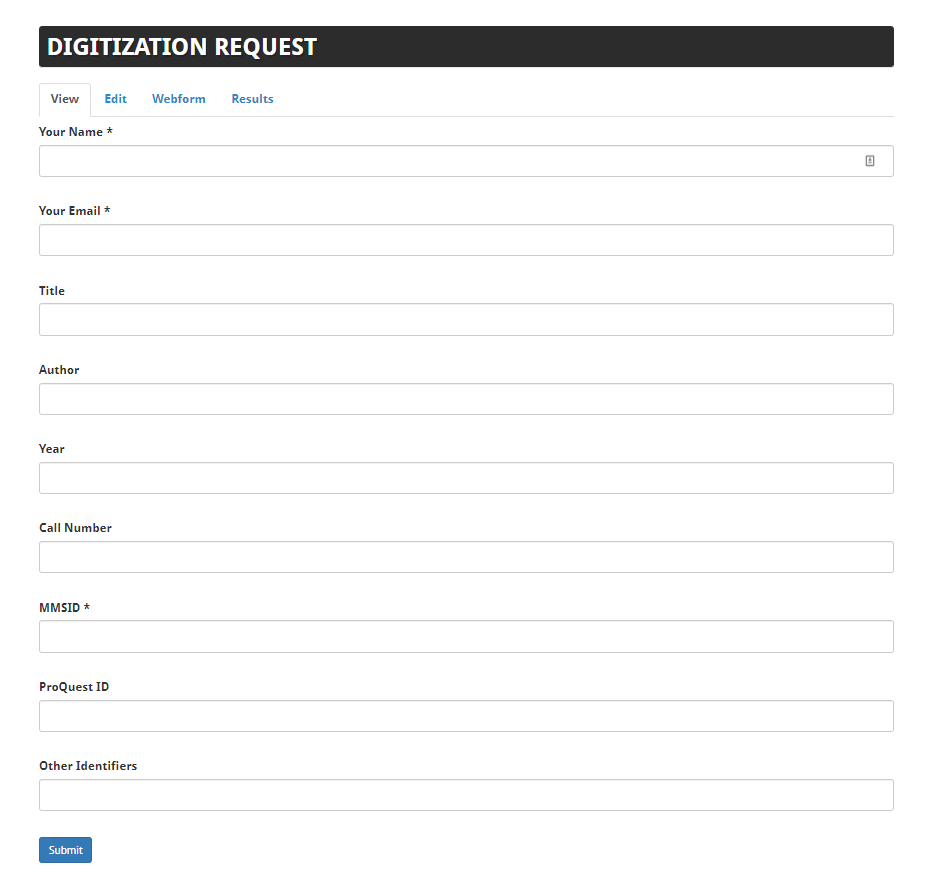 Responding to a need for a workflow for print thesis and dissertations to be digitized and added to SHAREOK, the Digital Innovation and Development division engineered a collaborative workflow with other divisions. This workflow is a combination of manual workflows and automated processes. It allows patrons, through a special link in the libraries discover system that only appears on relevant records, to request a print thesis be digitized and added to SHAREOK. Once the item is digitized, cyberCommons, infrastructure developed and maintained by the Informatics unit, automatically loads the digitized item into the repository. First, it checks for missing fields in the metadata and, when found, sends a notification to the Access and Description unit so that the record can be enriched before it is loaded into SHAREOK. When the workflow is complete, the system emails the patron that their request is ready, providing them with a link to the item. This automated process reduces staff time and human error and is the key to the success of the service.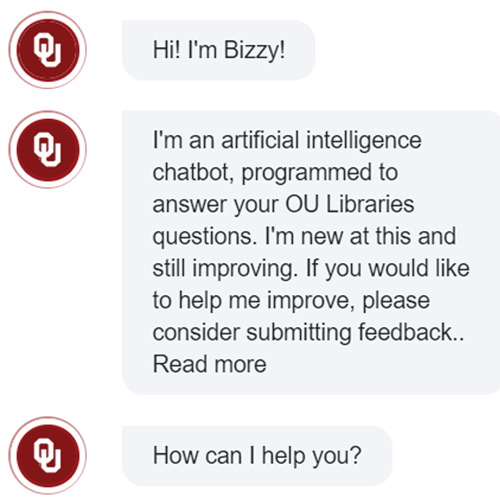 Bizzy is the libraries AI Chatbot, developed to answer Level I & II questions of the READ scale for library patrons. Bizzy is available at all times to answer chat questions.
Publications & Presentations
Camp, Twila, Barbara Laufersweiler, and Sarah Robbins. 2018. "Using Pre-Project Planning to Manage Workload" in Alice Daugherty, Samantha Schmehl Hines (ed.), Project Management in the Library Workplace (Advances in Library Administration and Organization, Volume 38), Emerald Publishing, pages 1-18.
 
Eli S. Bridge, Jay Wilhelm, Meelyn M. Pandit, Alexander Moreno, Claire M. Curry, Tyler D. Pearson, Darren S. Proppe, Charles Holwerda, John M. Eadie, Tez F. Stair, Ami C. Olson, Bruce E. Lyon, Carrie L. Branch, Angela M. Pitera, Dovid Kozlovsky, Benjamin R. Sonnenberg, Vladimir V. Pravosudov, and Jessica E. Ruyle. ​An Arduino-Based RFID Platform for Animal Research. Frontiers in Ecology and Evolution, Front. Ecol. Evol., 10 July 2019. https://doi.org/10.3389/fevo.2019.00257
 
​Watson, Jennifer and ​Cari Roberts. 2020. Beyond the usual suspects: A case study in choosing an inventory control system. The Journal of Academic Librarianship https://doi.org/10.1016/j.acalib.2020.102138.
Library News Stories
Cross-Team Initiatives
OU Libraries Introduces Digitization on Demand to Improve Access to OU Theses and Dissertations
Cloud Infrastructure & Development
​Data Services Unit​
Supporting Campus Research with Data Carpentry
​Supporting Campus Research Through Data Services
Providing a Collaborative Environment to Support Research Excellence
Meet the Experts: Mark Laufersweiler
Strengthening Skills & Capabilities
OU Libraries Presents Software Carpentry to the Library of Congress
Discovery & Application Development
Beyond Books: Making Museum Artifacts Searchable
Search by Braille
Increasing Access to Native American Languages
Digital Collections & Digitization
Supporting Student Research: Digitizing OSLEP History
​Improving Accessibility: Digitization and Transcription
Informatics
Creating Champions: Information Specialists Help Students Create an App
Meet the Experts with OU Libraries Data Analytics, Visualization, & Informatics Syndicate
Library Technology Platforms
New Assistive Technology Computer in Bizzell Memorial Library
OU Libraries Navapp
Web Services
Introducing Bizzy
Galileo's World